3 QUICK & EASY Betting Picks Cade Cunningham NBA Player Props Tonight | Pistons vs. Cavaliers 11/12/21
A fun start to the weekend is lined up tonight with a total of 11 games on this NBA Friday. Among the matchups is a battle between two of the top three draft picks in the 2021 NBA Draft. The revamped OddsShopper is the perfect resource to help you find betting value on NBA betting picks. With OddsShopper, the process of finding and betting on profitable NBA player props has never been easier. Tonight Awesemo has multiple must-bet projections and NBA betting tips for Detroit Pistons rookie No. 1 pick, Cade Cunningham. Using OddsShopper, the following column aims to find optimal odds and some positive ROI prop bets for Cade Cunningham in tonight's matchup.
NBA Betting Player Props & Betting Picks Tonight | Cade Cunningham
With the newly renovated OddsShopper, finding the best NBA betting player props is extremely easy. Simply filter the bet selections, sort the page, and find the best pick to bet. The process is fast, simple and effective. See below for an example of how to use the tool to find positive ROI NBA player props for Cade Cunningham tonight.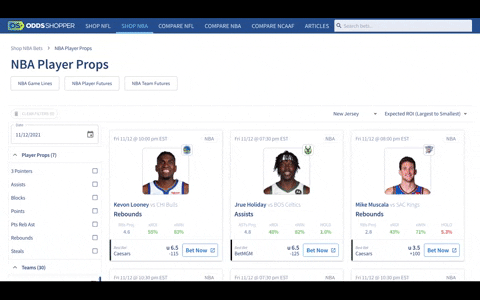 When it comes to the total number of points that the NBA betting market expects Cunningham to score tonight, there is a disagreement between sportsbooks. OddsShopper can help bettors narrow their search down to those shops that are offering the line of 17.5. Given that OddsShopper likes the under, it only makes sense to bet the higher NBA player props line. From there it simply becomes betting the best odds.
After struggling mightily in each of his first two NBA games, Cunningham has turned it on over the last three. He has scored a minimum of 17 points in three straight games. He notched a career-best 20 two nights ago in a duel with No. 2 overall pick Jalen Green. While he has been on an upward trajectory, the Pistons lack much in the way of proven offensive players around him. That could mean trouble against a Cavaliers defense that ranks top 10 in points allowed coming into the night.
OddsShopper may be down on Cunningham to exceed the NBA player props point total tonight, but they do believe there is value in betting him to go over 5.5 rebounds. It certainly helps that sportsbooks across the market are offering favorable plus-money odds. Although Cunningham has only eclipsed this total once in Detroit's last four games, he came close with four boards in each of the last two. He has proven capable of getting after it on the glass in the pros, with a double-digit rebound game last week. OddsShopper has his total at 6.16 board tonight, thus the expected ROI on this over prediction is listed at 30%.
---
The Latest Sports Betting Content from Awesemo Odds
---
Cunningham was known for being a gifted passer during his college days at Oklahoma State. However, he has yet to do much in the assists column through five games at the professional level. Entering tonight's game against the Cavaliers, Cunningham has only eclipsed the NBA betting total of 3.5 assists once. He is averaging 2.8 assists per game and must contend with the stingy Cleveland defense this evening. As a result, OddsShopper prefers the under on this wager. Favorable even-money odds only help to boost the expected ROI of this prop bet.
---
Thanks for reading to the end of this article! If you appreciate this free content and want to see more of it every day, you can help us out by sharing this article on social media!
Check out the
AwesemoOdds
home page for more sports betting content, including more picks and predictions.