3 QUICK & EASY Betting Picks Damian Lillard NBA Player Props Tonight | Trail Blazers vs. Clippers 11/9/21
There may only be three NBA games on the schedule this evening, but each matchup is certainly intriguing. This includes the late-night, nationally televised battle between the Portland Trail Blazers and the Los Angeles Clippers. The revamped Awesemo OddsShopper is the perfect resource to help you do just that. With OddsShopper, the process of finding and betting on profitable NBA player props has never been easier. Tonight Awesemo has multiple must-bet projections for Damian Lillard. Using the OddsShopper, the following column aims to find optimal odds and some positive ROI prop bets for Lillard in this Trail Blazers vs. Clippers matchup.
NBA Betting Player Props & Betting Picks | Damian Lillard
With the newly renovated OddsShopper, finding the best NBA betting player props is extremely easy. Simply filter the bet selections, sort the page, and find the best pick to bet. The process is fast, simple and effective. See below for an example of how to use the tool to find positive ROI NBA player props for Damian Lillard tonight.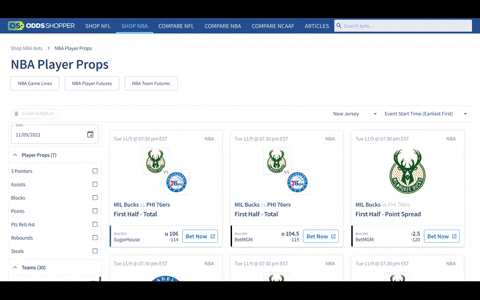 After breaking down the 20-point threshold in three of the last four games, some believe that Lillard has gotten his scoring back on track. However, whether betting him to exceed 25.5 points tonight is a smart idea is a completely different story. Despite Lillard's early-season struggles, the betting lines for his scoring props continue to be a bit inflated. Tonight's total is a full 7 points more than Lillard is averaging per game (18.5). While there will undoubtedly be some positive regression to that average, it will not be easy to come by tonight against the top-10 scoring defense of the Clippers. Thanks to OddsShopper, bettors can find even-money odds available on this under prediction. Thus the expected ROI on this NBA player props wager is a solid 31%.
Although OddsShopper does not project Lillard to clear his scoring prop, it does like the over on 3.5 total rebounds for him tonight. This is a line that Lillard has successfully eclipsed in four of Portland's last six games. The two times he did not, he finished with three to narrowly come up short. The Clippers are in the bottom half of the league in team rebounding, suggesting that there will be opportunities for the Trail Blazers guards to get involved on the glass. Even with the odds heavily juiced to the over, OddsShopper views this as a worthwhile bet. The expected win percentage is 66%.
Like his point total, Awesemo views the line for Lillard assists as a bit too high. Oddsmakers have set the number to match Lillard's per-game average of 8.5 assists coming into Tuesday's matchup. While he has recorded double-digit assists in three of the last five games, it could be tougher sledding tonight against a formidable Clippers defense. Los Angeles enters Tuesday ranked sixth in points allowed per game. Fewer buckets mean fewer opportunities to hand out assists. Although the projection (eight assists) and expected ROI (12%) are not as favorable as Lillard's scoring prop, the under still appears to be the way to go.
---
Thanks for reading to the end of this article! If you appreciate this free content and want to see more of it every day, you can help us out by sharing this article on social media!
Check out the
AwesemoOdds
home page for more sports betting content, including more picks and predictions.