3 QUICK & EASY Betting Picks Donovan Mitchell NBA Player Props Tonight | 76ers vs. Jazz 11/16/21
The nightcap to tonight's nationally televised NBA doubleheader is an intriguing cross-conference showdown between the Philadelphia 76ers and Utah Jazz. The revamped OddsShopper is the perfect resource to help you find the perfect NBA player props and betting picks for tonight's 76ers – Jazz matchup. Tonight Awesemo has multiple must-bet projections for Utah Jazz superstar, Donovan Mitchell.
Using the OddsShopper Tool, the following column aims to find optimal odds and some positive ROI prop bets for Donovan Mitchell in tonight's matchup.
NBA Betting Player Props & Picks | Donovan Mitchell
With the revamped OddsShopper, finding the best NBA betting player props is fast and simple. All users have to do is filter the prop selections, sort the page, and find the best pick to bet. The process is extremely quick and highly effective. See below for an example of how to use the tool for one of tonight's featured NBA player props.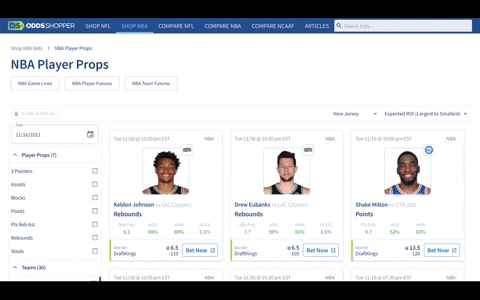 While his scoring has picked up compared to the very start of the season, Mitchell has still fallen short of the NBA player props total of 26.5 points in three of the last four games. He enters Tuesday's matchup with Philadelphia averaging nearly a full point less per game (25.6) on the season. It seems risky to back Mitchell to light up the scoreboard against a 76ers team that is in the upper half of the NBA in scoring defense.
In addition to being solid defensive teams, both the Jazz and 76ers are bottom-10 teams when it comes to pace of play, with Philadelphia ranking dead last. Possessions figure to be at a premium tonight compared to other games. That certainly bolsters a play towards the under on Mitchell's scoring prop. OddsShopper gives this prediction a 23% ROI and reveals up to a 10-cent differential in pricing across the NBA betting market. Make sure to utilize this free resource to get the best value possible on your NBA props tonight.
---
The Latest Sports Betting Content from Awesemo Odds
---
For many of the same reasons that OddsShopper favored the under on Mitchell's points prop above, bettors can also look to play under 3.5 made 3's this evening. In addition to a defensively focused game and slow pace of play, Mitchell has been ice cold from beyond the arc of late. He has failed to exceed this NBA player props line in three of Utah's last four games. He is coming off a 3-for-10 shooting performance from deep in the most recent game and is shooting just 32.8% from 3 in the month of November. There is a reason this prop bet is juiced heavily to the under.
Rounding out our Mitchell NBA props for tonight, OddsShopper advises bettors to play under on 4.5 total rebounds. While the 76ers are one of the worst rebounding teams in the league this season, it is no secret that Mitchell is on the floor to do more than crash the boards. Fewer possessions in a slower-paced game are likely to result in fewer rebounding opportunities, particularly for guards like Mitchell. Although he has eclipsed this line in each of the last two games, Mitchell is still only averaging 4.4 rebounds per game for the season, a hair below tonight's line. Awesemo pegs him to finish with exactly 4.09 rebounds tonight and has assigned a 62% expected win probability to the under.
---
Thanks for reading to the end of this article! If you appreciate this free content and want to see more of it every day, you can help us out by sharing this article on social media!
Check out the
AwesemoOdds
home page for more sports betting content, including more picks and predictions.