3 QUICK & EASY Betting Picks Julius Randle NBA Player Props Tonight | Lakers vs. Knicks 11/23/21
The first game of tonight's NBA on TNT doubleheader is a high-profile showdown between the Los Angeles Lakers and New York Knicks. Both teams have postseason aspirations this season, however, wins have not come easily for either club of late. The iconic Madison Square Garden is sure to be rocking for this big-city showdown. The revamped Awesemo OddsShopper Tool is the perfect resource to help find the best NBA player props and betting picks for tonight's Lakers – Knicks matchup. Tonight Awesemo has multiple must-bet projections for star Knicks big man, Julius Randle.
With help from OddsShopper, the following column aims to find optimal odds and discusses some positive ROI prop bets for Maxey in tonight's matchup.
NBA Player Props & Betting Picks | Julius Randle
With OddsShopper, finding the best NBA betting player props is fast and simple. All users have to do is filter the prop selections, sort the page, and find the best pick to bet. The process is extremely quick and highly effective. See below for an example of how to use the tool for one of tonight's featured NBA player props.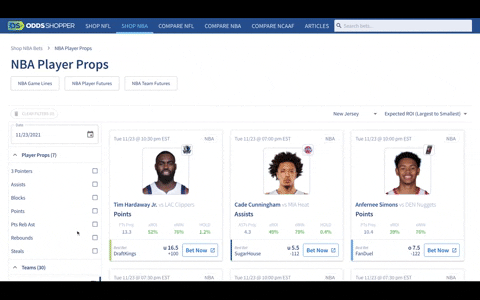 Over 9.5 Rebounds (+104, FanDuel)
While many NBA betting analysts predicted a regression for Julius Randle after his breakout 2020-21 campaign, that has not been the case early on in the new season. The former Laker enters Tuesday night's contest averaging a double-double line with 20.1 points and exactly 10.0 rebounds. While Awesemo's projections do not feel as though either side of Randle's point total (21.5) is worth a play tonight, they do give a positive expected ROI value of 19% to the over on his rebounding prop. The NBA player props market currently sits at 9.5 rebounds as the number Randle must eclipse. With three double-digit rebounding efforts in the Knicks' last four games, a play on the plus-money odds here offers bettors some solid value.
Awesemo officially projects Randle for 10.37 rebounds tonight. The over on this prop is expected to hit 60% of the time. Be sure to reference OddsShopper for the best odds and value on your NBA betting picks. The pricing for Randle's rebound total to go over has a hefty 14% disparity across the market.
Fellow NBA betting expert Adam Strangis also loves this Randle prop bet and has it as part of his favorite NBA Picks and Parlay Bets today.
---
The Latest Sports Betting Content from Awesemo Odds
---
Over 4.5 Assists (-122, SugarHouse)
Although the value is not as great as it is for his rebounding prop, Awesemo's projections also prefer playing the over on 4.5 total assists for Julius Randle in tonight's game. The big man enters Tuesday averaging 5.1 dimes per contest and has exceeded the NBA betting total in three of the Knicks' last five games. Awesemo projects Randle for exactly 5.15 assists tonight, a figure that falls in line with his season average while still coming in over the betting total. The vig associated with this prop bet varies heavily across the market. At the time of writing, OddsShopper is showing a discrepancy of up to 21 cents between sportsbooks. Be sure to check in with the tool for the latest odds and prices so you can obtain optimal value on your NBA player props.
Over 35.5 Points + Rebounds + Assists (-115, PointsBet)
Thanks to variations in the NBA betting market, bettors actually can net a favorable opportunity to play Julius Randle to exceed his combined points + rebounds + assists total. Based on both the lines for each individual prop and Awesemo's projections, Randle figures to finish right around 36.5 total combined stats this evening. Thanks to OddsShopper, we see that some sportsbooks have set his combined statistics total one lower at 35.5. Surprisingly, the associated odds for Randle to exceed 35.5 points + rebounds + assists are very similar to the current pricing on over 36.5. This bet is the perfect example of why it always pays to shop the lines across all sportsbooks before firing on your NBA player props.
---
Thanks for reading to the end of this article! If you appreciate this free content and want to see more of it every day, you can help us out by sharing this article on social media!
Check out the
AwesemoOdds
home page for more sports betting content, including more picks and predictions.