3 QUICK & EASY Betting Picks Kyle Lowry NBA Player Props Tonight | Nuggets vs. Heat 11/29/21
Tonight's marquee nationally televised NBA matchup sees the Denver Nuggets travel to South Beach to take on the Miami Heat. For fans of tough, physical defense, this game figures to be right up your alley. The two teams come in with top-six scoring defenses. Both are also among the seven slowest NBA clubs. While the status of Jimmy Butler is still to be determined, there are plenty of other noteworthy players to track in tonight's Nuggets – Heat matchup. The revamped Awesemo OddsShopper Tool is the perfect resource to help find the best NBA player props and betting picks for the game. Tonight Awesemo has multiple must-bet projections for Kyle Lowry.
With help from OddsShopper, the following column aims to find optimal odds and discusses some positive ROI prop bets for Lowry in tonight's matchup.
NBA Player Props & Betting Picks | Kyle Lowry
With OddsShopper, finding the best NBA betting player props is fast and simple. All users have to do is filter the prop selections, sort the page, and find the best pick to bet. The process is extremely quick and highly effective. See below for an example of how to use the tool for one of tonight's featured NBA player props.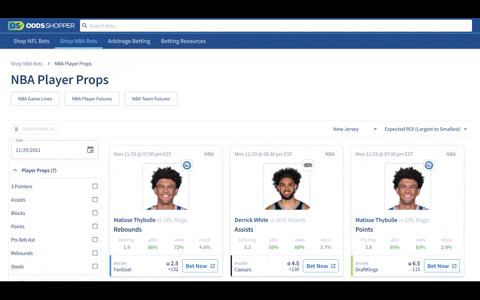 Under 13.5 Points (-105, DraftKings)
Awesemo's projections have felt that the NBA betting market has been too high on its points props for Kyle Lowry all season. They have largely been right with this assessment. Lowry enters Monday night's matchup averaging 12.3 points per game, a figure that sits below the NBA player props totals of 14.5 and 13.5 that oddsmakers have typically assigned to him. With defense expected to reign supreme in tonight's game, the lower of the two lines has been selected. Awesemo still finds value on the under, projecting Lowry to score exactly 12.57 points. That is nearly one whole tally below the betting line.
While Lowry comes into tonight on the heels of a 19-point outing on Saturday, he has mostly failed to go over the betting props totals in recent games. Since Nov. 15, Lowry has only exceeded tonight's NBA player props total twice in six games played. Until he improves upon a 30.6% shooting clip from beyond the 3-point arc, his scoring struggles are likely to continue. OddsShopper gives this under prediction a positive expected ROI of 14% at the current -105 odds.
---
The Latest Sports Betting Content from Awesemo Odds
---
Under 6.5 Assists (+115, DraftKings)
While the projection for Lowry to go under his total points prop falls in line with his data from the season thus far, taking him under 6.5 total assists tonight is a bit more daring. Luckily, thanks to OddsShopper, bettors can find optimal +115 odds on this wager. At that favorable price point, this is the side to take. Lowry has had several big-time games in the assists column this season. However, it is worth noting that he has fallen short of the betting total in each of Miami's last two games.
With tonight's matchup against the Nuggets expected to breed plenty of defense and a sluggish pace of play, it begs the question as to how many opportunities Lowry will truly have to get over the betting line for total assists. While OddsShopper views this as a fair line, the plus-money price on the under results in a 13% expected ROI. This prop serves as a perfect example of how pricing can influence a betting edge.
Under 5.5 Rebounds (-160, DraftKings)
Rounding out a trio of under predictions for Lowry in tonight's matchup is a play that he will come up short on 5.5 rebounds. Unlike the assists NBA player props prediction detailed above, bettors actually have to lay hefty juice on this under with -160 odds attached. Lowry comes in averaging half a rebound less than the NBA betting line, with five per game on the season. OddsShopper projects that even lower tonight, pegging him for 4.89 boards. For this prop bet, the under is expected to hit 64% of the time. However, in contrast to Lowry's total assists, the less favorable odds result in a lower expected ROI. Fortunately for bettors, it is still considered a positive play at 4%.
---
Thanks for reading to the end of this article! If you appreciate this free content and want to see more of it every day, you can help us out by sharing this article on social media!
Check out the
AwesemoOdds
home page for more sports betting content, including more picks and predictions.