3 QUICK & EASY Betting Picks LaMelo Ball NBA Player Props Tonight | Pacers vs. Hornets 11/19/21
Among the nine NBA games taking place tonight is a very interesting Eastern Conference battle between the Indiana Pacers and Charlotte Hornets. The young Hornets have been playing very well early in the season and will look to continue that on their home floor this evening. The revamped Awesemo OddsShopper Tool is the perfect resource to help find the best NBA player props and betting picks for tonight's Pacers – Hornets matchup. Tonight Awesemo has multiple must-bet projections for LaMelo Ball.
With help from OddsShopper, the following column aims to find optimal odds and discusses some positive ROI prop bets for Ball in tonight's matchup.
NBA Player Props & Betting Picks | LaMelo Ball
With OddsShopper, finding the best NBA betting player props is fast and simple. All users have to do is filter the prop selections, sort the page, and find the best pick to bet. The process is extremely quick and highly effective. See below for an example of how to use the tool for one of tonight's featured NBA player props.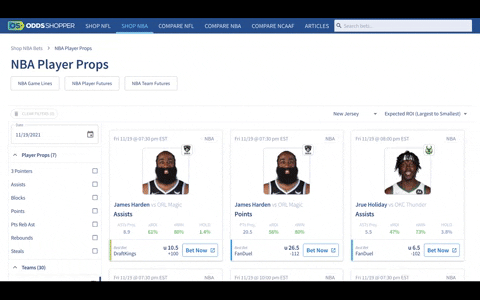 When it comes to recent games, Ball has eclipsed tonight's NBA player props rebounding total of 6.5 the majority of the time. He enters Friday's game averaging nearly one full rebound more with 7.4 per contest. A six-rebound effort on Wednesday marked Ball's first game with fewer than seven boards since Nov. 5. In actuality, Awesemo's projections simply list Ball at his exact per-game average, with 7.4 rebounds expected tonight. However, compared to the betting line, that is enough to give this over wager a 17% expected ROI. At the time of writing, OddsShopper lists the best value in the form of -112 odds. Be sure to check the updated lines before placing prop bets, as this is up to 18 cents better value than other sportsbooks are offering.
---
The Latest Sports Betting Content from Awesemo Odds
---
Awesemo's projections are also bullish on Ball to clear his assists prop total of 7.5 in tonight's matchup. Considering that the opponent Pacers have struggled defensively this season, Ball should have several opportunities to find his teammates. He has had no trouble clearing this NBA betting total in recent games. A 14-assist performance on Wednesday highlights a run that has seen Ball dish out eight or more in six of the Hornets' last eight games. While the line is identical to the 7.5 assists he has averaged per game this season, Awesemo still gives him a 54% chance to go over.
In addition, OddsShopper reveals a wide disparity of nearly 20 cents in the betting market. By shopping around, bettors will ensure that they gain the opportunity to fire on plus-money odds.
Call it an over trifecta, as Awesemo's projections also side with Ball exceeding 18.5 points in tonight's game. In what figures to be a relatively fast-paced game with plenty of scoring, Ball does not figure to be lacking in shot attempts or opportunities. Awesemo projects him to eclipse both the NBA props total and his own per-game average (18.8) and finish with 19.05 points tonight. While the betting edge is not huge in terms of value, it is worth noting that Ball is due to bounce back from recent shooting struggles. OddsShopper once again reveals a wide range of prices on this points prop that has been juiced to the over. The optimal -115 odds are up to 12 cents better than those at competing sportsbooks.
---
Thanks for reading to the end of this article! If you appreciate this free content and want to see more of it every day, you can help us out by sharing this article on social media!
Check out the
AwesemoOdds
home page for more sports betting content, including more picks and predictions.