3 MUST BET Luka Doncic NBA Player Props Tonight | Mavericks vs. Nuggets 10/29/21
Seven NBA games are on tap for Friday night. The nightcap to a nationally televised doubleheader on ESPN features the Dallas Mavericks taking on the Denver Nuggets. When it comes to NBA player props, it is hard to top making picks for Luka Doncic. The following looks at three NBA player props for Doncic ahead of tonight's game. Using both the Awesemo NBA Betting Player Props Tool and the OddsShopper Tool, we will aim to find optimal odds and positive ROI prop bets for Doncic tonight.
NBA Betting Player Props & Betting Picks | Luka Doncic
With the newly renovated Awesemo OddsShopper Tool, finding the best NBA betting player props is extremely easy. Simply filter the bet selections, sort the page, and find the best pick to bet. The process is fast, simple and effective. See below for an example of how to use the tool to find positive ROI NBA player props for Doncic tonight.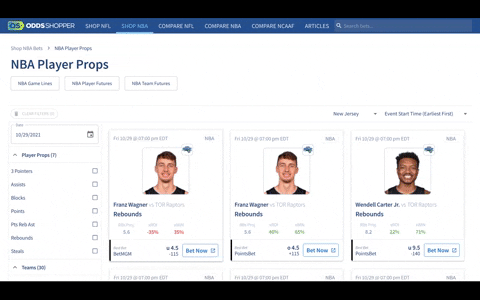 Under 9.5 Assists (-135, Caesars Sportsbook)
Based on the Awesemo Props Tool, the best Doncic pick for tonight's game is to bet under 9.5 assists. The line certainly does feel a bit high considering Doncic's past games this season. Only once has he achieved the double-digit assists necessary to clear this NBA betting line. He comes in averaging just 7.8 assists on the season. Awesemo's projections suggest Doncic will dish out 8.3 assists this evening, a number much closer to his season average but still well under the prop total.
Bettors can also look at stats from previous seasons to gain a better idea of whether this player prop is worth firing on. Sure enough, Doncic has never come close to averaging 9.5 assists per game over a full season. He finished with 8.6 per game last year. Several other sportsbooks in the market list this prop at 8.5 assists so the 9.5 number is great value.
Over 27.5 Points (-110, FanDuel Sportsbook)
Unlike the lofty assists line, Doncic has brushed right up against this line of 27.5 points in each of the last three games. While he has yet to exceed the number, point totals of 27, 26 and 25 in the last three games show that Doncic is very close to doing so. A projection of 28.2 points gives this prop prediction an expected win percentage of 54%. With some sportsbooks having slight variations of this line, be sure to reference the OddsShopper Tool when placing bets to get the best number and odds possible.
Over 0.5 Blocks (+115, DraftKings Sportsbook)
Entering tonight's matchup, Doncic is averaging 0.8 blocks per game. He has recorded one in each of Dallas' last three games. Awesemo Props Tool suggest Doncic will record 0.4 blocks tonight. That is right on par with the over/under of 0.5. Since the Nuggets are one of the worst offensive teams in basketball, Doncic might record a block for the fourth straight game.
---
Thanks for reading to the end of this article! If you appreciate this free content and want to see more of it every day, you can help us out by sharing this article on social media!
Check out the
AwesemoOdds
home page for more sports betting content, including more picks and predictions.