3 MUST BET NBA Player Props Tonight | Cade Cunningham & Eric Bledsoe 11/23/21
Tuesday evening's four-game NBA slate is highlighted by an intriguing TNT doubleheader. Although the number of teams and players in action is less than most nights, there will still be plenty of betting opportunities to pursue in the NBA player props market. Make sure to include the redesigned Awesemo OddsShopper Tool in the NBA handicapping process as well as NBA betting tips today. Thanks to this tremendous tool, finding the best player props and bets is as simple as three quick steps: Filter, sort, bet.
With help from the OddsShopper Tool, let's explore three must-bet prop predictions for Tuesday's NBA action.
Best NBA Player Props & Betting Picks Tonight
With the revamped OddsShopper, finding the best NBA betting player props is fast and simple. All users have to do is filter the prop selections, sort the page, and find the best pick to bet. The process is extremely quick and highly effective. See below for an example of how to use the tool for one of tonight's featured NBA player props.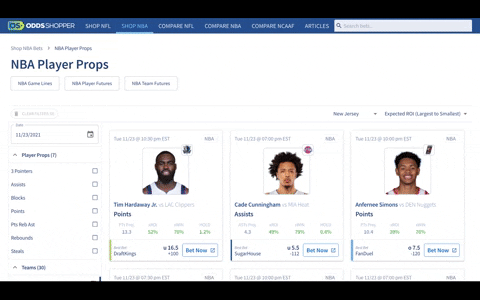 Cade Cunningham Over 6.5 Rebounds (+115, SugarHouse)
No. 1 overall pick Cade Cunningham is slowly acquitting himself well at the NBA level. In addition to scoring in double figures in five straight games, Cunningham has also been contributing plentiful numbers in both the rebound and assist categories. Most recently, he secured his first career triple-double in a heated game against the Lakers on Sunday, with 13 points, 12 rebounds and 10 assists. Cunningham has now cleared tonight's NBA player props line of 6.5 rebounds in three of the last four games.
Awesemo's projections view the over on 6.5 rebounds as worthy of inclusion in tonight's prop bet menu. OddsShopper also shows that there are plus-money odds available on this pick across the NBA betting market. Given how Cunningham has been making plays on the glass in recent games, momentum is certainly in favor of the over. While it will not be easy to pile up rebounds tonight against a sturdy Heat frontcourt, keep in mind that the Pistons will be without center Isaiah Stewart due to a suspension that stemmed from Sunday's altercation. Thanks to the plus-money odds being offered, Awesemo gives this over prediction an expected ROI of 11%.
---
The Latest Sports Betting Content from Awesemo Odds
---
Monte Morris Under 4.5 Assists (-118, BetMGM)
Although he sits atop the depth chart as the Denver Nuggets' starting point guard, Monte Morris has played fewer than 30 minutes in each of the last two games. In reality, minutes have not necessarily correlated directly with Morris' assist numbers this season. The fact that the Nuggets are one of the worst scoring offenses in the league certainly has. He enters Tuesday's matchup against the Portland Trail Blazers averaging 4.1 helpers per game. Only three times in the last ten games has Morris successfully eclipsed tonight's NBA player props total of 4.5 assists.
Awesemo's projections believe he will fall short of doing so again tonight. A projection of 3.69 assists coincides with a 73% chance of the under on this prop bet hitting. The fact that star center Nikola Jokic might miss tonight's contest only spells further difficulties for the struggling Denver offense.
If you're looking to get even more action down on this game, check out the Nuggets vs. Trail Blazers pick Sean Blazek is targeting in his NBA Best Betting Picks article today.
Eric Bledsoe Over 3.5 Points (-112, SugarHouse)
Eric Bledsoe may no longer be the player he once was, but he is still providing meaningful contributions for an injury-plagued Clippers team. He enters Tuesday night's home game against the Mavericks averaging 4.2 rebounds per game. Bledsoe has also secured a minimum of four rebounds in each of the last six games. As a result, Awesemo's projections believe there is value to be had on playing him to finish over 3.5 rebounds this evening. The projections tab him to finish with exactly 4.56 rebounds tonight. That translates to an expected win percentage of 67% and one of the best expected ROIs on tonight's NBA player props board, at 27%.
Bettors should be sure to check the latest prices using OddsShopper. At the time of writing, there is a 13-cent range of disparity between sportsbooks in the market.
---
Thanks for reading to the end of this article! If you appreciate this free content and want to see more of it every day, you can help us out by sharing this article on social media!
Check out the
AwesemoOdds
home page for more sports betting content, including more picks and predictions.