3 MUST BET NBA Player Props Tonight | Myles Turner & Kyle Kuzma 11/29/21
The new week starts strong tonight with a nine-game Monday slate in the NBA. This marks the beginning of Week 7 in the 2021-22 season. As always, there are plenty of intriguing matchups and storylines to track this evening. Make sure to include the redesigned Awesemo OddsShopper Tool in the NBA handicapping process as well as NBA betting tips today. Thanks to this tremendous tool, finding the best player props and bets is as simple as three quick steps: Filter, sort, bet.
With help from the OddsShopper Tool, let's explore three must-bet prop predictions for the NBA action on this, the final Monday of November.
Best NBA Player Props & Betting Picks Tonight
With the revamped OddsShopper, finding the best NBA betting player props is fast and simple. All users have to do is filter the prop selections, sort the page, and find the best pick to bet. The process is extremely quick and highly effective. See below for an example of how to use the tool for one of tonight's featured NBA player props.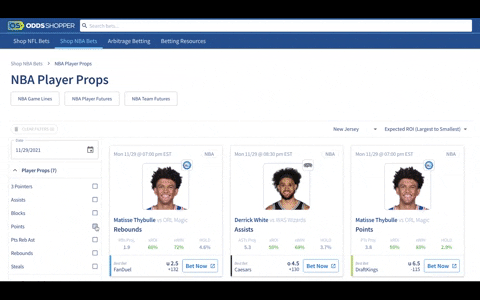 Myles Turner Over 10.5 Points (-114, FanDuel)
Myles Turner is coming off a very lackluster performance against the Milwaukee Bucks yesterday afternoon in which he scored only 2 points on 1-for-4 shooting. The Pacers are right back in action tonight, notably in a much more favorable matchup for big men. It is well documented that Karl-Anthony Towns does not take too kindly to playing defense. After yesterday's rough showing, bettors can perhaps think of this as a buy-low opportunity on Turner. He is quietly averaging 12.4 points per game and had scored 11-plus in four straight games prior to yesterday's dud. OddsShopper expects some positive regression for Turner. The 12.3 points he is projected to score tonight are more closely aligned with his season average than the betting total. The resulting expected ROI on associated -114 betting odds if a solid 24%.
---
The Latest Sports Betting Content from Awesemo Odds
---
Kyle Kuzma Under 2.5 Assists (+100, DraftKings)
Compared to his season averages, the last few games have been a statistical anomaly for Kyle Kuzma in the assists department. As a result, OddsShopper is displaying favorable +100 NBA betting odds on a regression to the mean for Kuzma tonight. Even after alternating totals of five and four assists in each of the last four games, Kuzma is still only averaging 2.7 per game on the season. Perhaps part of the equation in Washington's most recent matchup on Saturday was the fact that Spencer Dinwiddie did not play in the second game of a back-to-back. At the favorable odds, OddsShopper assigns a 10% expected ROI to the under on 2.5 total assists for Kuzma tonight.
Josh Hart Over 2.5 Assists (-149, Caesars)
One of the NBA player props that OddsShopper is most confident in cashing tonight is the over on 2.5 assists for Josh Hart. Hart is known for contributing across multiple statistical areas. Although he failed to crack double-digit points in either of the team's games over the weekend, Hart still found other ways to pitch in. Only once in the last four games has he finished below tonight's NBA betting line of 2.5 assists. Awesemo gives the over a 66% chance to hit. Based on Hart's per-game assist average of 3.6, a projection of 3.39 feels much more on point than the betting total. Although bettors are required to lay -149 odds on this prop bet for tonight, it is still considered a positive-ROI wager.
---
Thanks for reading to the end of this article! If you appreciate this free content and want to see more of it every day, you can help us out by sharing this article on social media!
Check out the
AwesemoOdds
home page for more sports betting content, including more picks and predictions.