MUST BET NBA Player Prop Picks & Predictions | Russell Westbrook & Donovan Mitchell Tonight 10/26/21
There may only be five games on Tuesday evening's NBA slate, but the stars will be out in force. Each contest carries with it a high level of intrigue, including the rivalry game between the New York Knicks and Philadelphia 76ers. This game and the others all offer bettors an extensive array of NBA player props to consider. Thanks to the revamped Awesemo OddsShopper Tool, the act of betting player props has never been simpler. The tool allows users to shop for their preferred NBA betting picks and place bets automatically following a simple three-step process: Filter, sort and bet.
With a little help from both the OddsShopper Tool and the projections found in Awesemo's NBA Betting Player Props Tool, let's explore three must-bet prop predictions for tonight's slate.
Best NBA Player Props & Betting Picks Tonight
With the newly renovated Awesemo OddsShopper Tool, finding the best NBA betting player props is extremely easy. Simply filter the bet selections, sort the page, and find the best pick to bet. The process is fast, simple and effective. See below for an example of how to use the tool for one of tonight's NBA player props.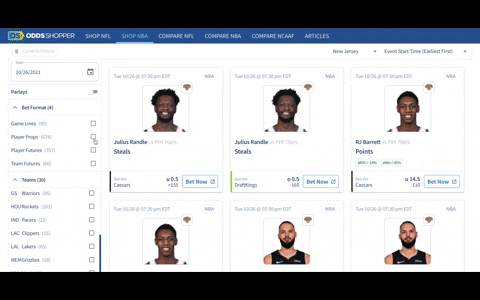 Russell Westbrook Under 9.5 Assists (-132 at FanDuel Sportsbook)
The move to the Lakers has not proven to be a major roadblock for Russell Westbrook's ability to fill up the stat sheet. However, oddsmakers and the betting market continue to overestimate his assists a bit. While Westbrook did hand out 13 dimes in the Lakers game on Sunday, that marked his first game with more than nine assists this season. With tonight's road game at the Spurs being the second game of a back-to-back, it would not be surprising to see Westbrook and other key players receive slightly reduced minutes. Awesemo's NBA Betting Player Props Tool projects an expected win percentage of 80% for the prop on Westbrook's total assists to go under 9.5. The expected ROI is 39%.
Alec Burks Under 3.5 Rebounds (-105) at Caesar's Sportsbook
The Knicks are a competitive basketball team again this season. In fact, coach Tom Thibodeau has so many players on this year's roster capable of contributing that there just are not enough minutes to go around. One of those suffering from the deep Knicks rotation this season is Alec Burks. Burks played a season-high 25 minutes in Sunday's game. Prior to that, he had finished below the 20-minute threshold in both games. He barely cleared tonight's NBA player props line of 3.5 rebounds in 25 minutes, finishing with four boards. The Betting Player Props Tool projects Burks for just 2.89 rebounds this evening. The tool assigns an expected ROI of 32% to this under prediction.
Donovan Mitchell Under 26.5 Points (-111) at BetMGM Sportsbook
Donovan Mitchell has gotten off to a poor shooting start this season. In two games Mitchell has only connected on 35.7% of his field goal attempts. It took six made 3-pointers for him to finish with 27 points last Friday. That effort came against a bad defensive team in the  Kings. The Nuggets should provide a stiffer test tonight when it comes to shooting from beyond the arc. Despite all of these components, Mitchell's total points prop line is still listed at 26.5 for tonight's game. While this bet has been juiced heavily to the under at various sportsbooks in the market, the Awesemo OddsShopper Tool shows this is not the case at BetMGM. The Betting Player Props Tool gives this under prediction an expected win percentage of 70%.
---
Thanks for reading to the end of this article! If you appreciate this free content and want to see more of it every day, you can help us out by sharing this article on social media!
Check out the
AwesemoOdds
home page for more sports betting content, including more picks and predictions.