3 MUST BET NBA Player Props Tonight | Jayson Tatum & Trae Young 11/12/21
A full Friday slate of NBA hoops is on deck for this evening, with 11 games on the schedule for NBA betting tonight. There is an opportunity to make Friday night that much more memorable with some winning NBA player props and betting picks. Make sure you include the redesigned Awesemo OddsShopper Tool in the NBA handicapping process. Thanks to this tremendous tool, finding the best player props and bets is as simple as three quick steps: filter, sort, bet. With help of OddsShopper, let's explore three must-bet prop predictions for Friday night's NBA slate.
Best NBA Betting Player Props & Betting Picks Tonight
With the revamped OddsShopper, finding the best NBA betting player props is fast and simple. All users have to do is filter the prop selections, sort the page, and find the best pick to bet. The process is extremely quick and highly effective. See below for an example of how to use the tool for one of tonight's NBA player props.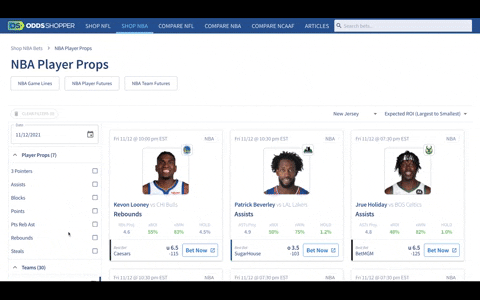 Tatum may have dished out seven assists two nights ago against the Raptors, but that line is an anomaly in a season where he has only averaged 3.6 per game. OddsShopper is bullish about the opportunity to play plus-money odds on Tatum to come up short of his average tonight. It is worth noting that Tatum has come up short of 3.5 assists in four of the Celtics' five November games to date. The Bucks do not figure to make anything easy on their home floor tonight. With +110 odds available, Awesemo gives this under prediction an expected ROI of 39% to go along with a 66% expected win percentage. Make sure to utilize OddsShopper to find the best number available. Note that plus-money odds are not offered at every sportsbook in the market.
It is no secret that rebounding is not the focal point of Young's game. However, he has been contributing on the glass with regularity this season. Young enters Friday night's intriguing matchup with the Nuggets averaging 3.3 rebounds per contest. Although he failed to notch a single rebound in the Hawks' most recent game against the Jazz, Young has successfully cleared tonight's NBA player props line of 2.5 rebounds in four of six November outings. To further bolster this over prediction, the Nuggets differ drastically from the Jazz in terms of rebounding capabilities. Denver enters Friday's game ranked 26th in team rebounding on the season. The Utah team that prevented Young from grabbing a single rebound three nights ago ranks first. OddsShopper shows an ROI of 22% for this bet.
---
The Latest Sports Betting Content from Awesemo Odds
---
After playing fewer than 25 minutes in each of the Timberwolves' first four games, Beverley has seen his playing time ramped up since the start of November. He has played a minimum of 27 minutes in each of four games since the start of the month. Wednesday saw Beverley dish out seven assists in 35 minutes against a stout Raptors defense. While he has to contend with another strong defensive team in the Lakers tonight, OddsShopper still likes Beverley to exceed the betting total of 3.5 assists. A price range of nearly 25 cents exists on the odds for this prop prediction.
---
Thanks for reading to the end of this article! If you appreciate this free content and want to see more of it every day, you can help us out by sharing this article on social media!
Check out the
AwesemoOdds
home page for more sports betting content, including more picks and predictions.