3 MUST BET NBA Player Props Tonight | Tyrese Maxey & Jusuf Nurkic 11/9/21
It is a fairly quiet Tuesday evening in the NBA with just three games on the schedule. Nonetheless, two will be televised nationally, and all three matchups carry plenty of intrigue. There may be fewer games, but there are still some excellent opportunities to win betting on NBA player props. No matter which players and games you desire to wager on, make sure you include the redesigned Awesemo OddsShopper in your NBA handicapping process. Thanks to this tremendous tool, finding the best player props and bets is as simple as three quick steps: filter, sort and bet. With help from the OddsShopper, let's explore three must-bet prop predictions for Tuesday night's slate.
Best NBA Betting Player Props & Betting Picks Tonight
With the revamped OddsShopper, finding the best NBA betting player props is fast and simple. All users have to do is filter the prop selections, sort the page and find the best pick to bet. The process is extremely quick and highly effective. See below for an example of how to use the tool for one of tonight's NBA player props.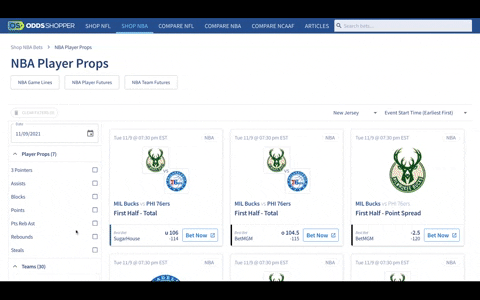 Despite the NBA betting odds being heavily juiced to the under on Maxey's total rebounds prop for tonight, OddsShopper still loves the play. Maxey came up huge on Monday with nine rebounds. The onus was on both him and other 76ers to step up on the glass with Joel Embiid missing the game. It is worth noting that Embiid is expected to miss tonight's game as well as Philadelphia plays the second game of a back-to-back against the Bucks.
While Embiid's absence figures to boost the rebounding numbers of 76ers like Maxey, bettors are wise not to anticipate a performance quite like last night's. Prior to Monday's game, Maxey has only exceeded the NBA player props total of 4.5 rebounds twice on the season. Even after the nine-rebound effort, he is still only averaging 3.6 per game. The Bucks are also one of the more proficient rebounding teams in the league and figure to make it tough on the glass for the short-handed 76ers this evening.
---
The Latest Sports Betting Content from Awesemo Odds
---
From a scoring standpoint, the past week has not been a great one for Ingles. A 2-for-9 shooting effort on Sunday against Orlando marked the fifth time in the last six games that Ingles has failed to reach double digits on the scoreboard. He has also been held to 5 points or less in four of those contests. Despite the recent shooting woes, OddsShopper likes the NBA betting value on Ingles to go over 8.5 points this evening.
A couple of factors figure to benefit Ingles in tonight's game. For starters, teammate Rudy Gay has been ruled out with an injury. This should ensure ample minutes for Ingles. The other factor of note is the 3-point defense of the Hawks, which ranks in the bottom half of the NBA. Ingles has been an uncharacteristic 2-for-11 from deep over the last two games. He has a great opportunity to bounce back in a favorable matchup tonight. Plus-money odds round out the reasons why this bet has a positive expected ROI of 22%.
A healthy Nurkic has helped the Trail Blazers drastically improve their rebounding numbers from a season ago. Portland enters Tuesday night's game against the Clippers ranked fourth in the NBA in team rebounds per game. Nurkic is averaging 11.9 per contest on the season by himself. He hauled in a whopping 17 boards in just 22 minutes of action as part of a double-double on Saturday. OddsShopper shows a plus-money offering on Nurkic to exceed 10.5 rebounds tonight. The projections give this over bet an expected win percentage of 61% and an expected ROI of 24%.
---
Thanks for reading to the end of this article! If you appreciate this free content and want to see more of it every day, you can help us out by sharing this article on social media!
Check out the
AwesemoOdds
home page for more sports betting content, including more picks and predictions.