3 QUICK & EASY Betting Picks Nikola Jokic NBA Player Props Tonight | 76ers vs. Nuggets 11/18/21
The lone nationally televised NBA game tonight pits the Philadelphia 76ers against the Denver Nuggets. The revamped Awesemo OddsShopper Tool is the perfect resource to help find the perfect NBA player props and betting picks for tonight's 76ers vs. Nuggets matchup. Tonight Awesemo has multiple must-bet projections for reigning NBA MVP Nikola Jokic. Using OddsShopper, the following column aims to find optimal odds and some positive ROI prop bets for Jokic in tonight's matchup.
NBA Betting Player Props & Picks | Nikola Jokic
With OddsShopper, finding the best NBA betting player props is fast and simple. All users have to do is filter the prop selections, sort the page, and find the best pick to bet. The process is extremely quick and highly effective. See below for an example of how to use the tool for one of tonight's featured NBA player props.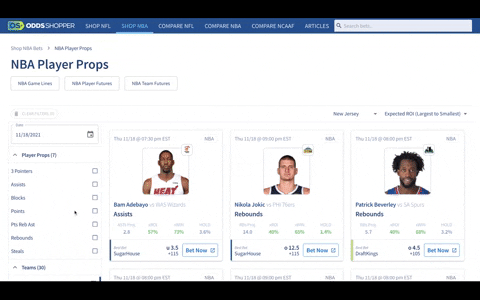 It is not every day that OddsShopper includes a superstar among its top picks. Thursday just so happens to be one of those days. The projections consider playing over 12.5 rebounds for Jokic tonight to be one of the three best NBA player props of the evening in terms of expected ROI. Based on both Jokic's own numbers and those of the opponent 76ers, it is no surprise that the play is so highly regarded. Jokic comes in averaging a whopping 13.8 rebounds per contest, tied for the second most in the league. At the same time, the 76ers enter the day ranked dead last in team rebounding.
Jokic will also catch a break in the fact that Joel Embiid will remain sidelined through tonight's contest. At the same time, Awesemo's projections believe that bettors are catching a break of their own. OddsShopper reveals plus-money pricing available on this over prediction. Given that the official projections tab Jokic for exactly 14 boards tonight, the expected ROI on this pick is a hefty 65%.
---
The Latest Sports Betting Content from Awesemo Odds
---
While Awesemo is very bullish on Jokic's rebounding prop, the same cannot be said for his scoring total. It should be noted that OddsShopper is showing variations of the actual betting line across the market. A full point of difference can be found depending on where one places their NBA betting picks. Awesemo's projections believe that the best option is to play under 27.5 points for Jokic tonight. Although this is a total that he has exceeded in each of the Nuggets' last two games, he comes in averaging over a full point less, at 26.1 per game. A decent 76ers defense does not figure to help things tonight. Although Embiid is out, Jokic will still have to contend with the size of defensive stalwart Andre Drummond down low.
Oddsmakers have set the assist prop total for Jokic nearly identical to his per-game average on the season. He has dished out 6.3 assists per game and will need to finish with at least seven in order to exceed tonight's line of 6.5. Although the odds are juiced to the over across much of the NBA betting market, Awesemo's projections lean towards a plus-money opportunity on the under. Bettors should be sure to reference the OddsShopper tool before locking in their NBA player props for tonight. The price variance on Jokic's assists prop is extremely diverse depending on the sportsbook. Optimal +118 odds at the time of writing offer up to 23 cents better value than can be found at other outlets.
---
Thanks for reading to the end of this article! If you appreciate this free content and want to see more of it every day, you can help us out by sharing this article on social media!
Check out the
AwesemoOdds
home page for more sports betting content, including more picks and predictions.