3 QUICK & EASY Betting Picks Russell Westbrook NBA Player Props Tonight | Heat vs. Lakers 11/10/21
The nightcap to Wednesday's ESPN NBA doubleheader features a rematch of the 2020 NBA Finals between the Miami Heat and Los Angeles Lakers. The revamped Awesemo OddsShopper Tool is the perfect resource to help you do just that. With OddsShopper, the process of finding and betting on profitable NBA player props has never been easier. Tonight Awesemo has multiple must-bet projections for Lakers point guard, Russell Westbrook. Using the OddsShopper Tool, the following column aims to find optimal odds and some positive ROI prop bets for Westbrook in this Heat vs. Lakers matchup.
NBA Betting Player Props & Picks | Russell Westbrook
With the newly renovated OddsShopper, finding the best NBA betting player props is extremely easy. Simply filter the bet selections, sort the page, and find the best pick to bet. The process is fast, simple and effective. See below for an example of how to use the tool to find positive ROI NBA player props for Westbrook tonight.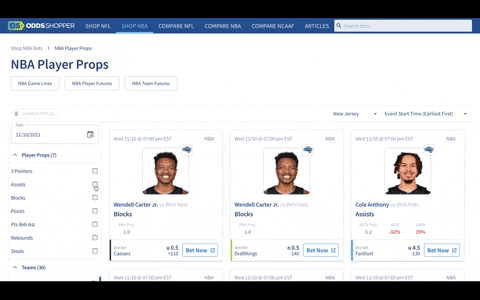 After averaging double-digit assists in five of the last six years, Westbrook enters Wednesday's game dishing just 8.5 per game in his first season with the Lakers. Despite this, oddsmakers continue to set his NBA player props assists total in double digits on a nightly basis. While he did sail over tonight's line of 10.5 on Monday in a triple-double effort, it will not be easy to replicate tonight against the Heat. Miami is tied for the second-fewest points allowed per game on the year. With Anthony Davis dealing with a thumb sprain, the Lakers could be even more offensively challenged tonight.
Curiously, the vig on Westbrook's assists prop varies across the NBA betting market. Some sportsbooks have the odds juiced to the over. Others suggest that under 10.5 is the preferred side. Make sure to use OddsShopper to find the best price available. Overall, Awesemo's projections assign a massive expected win percentage of 78% to this under prediction.
Awesemo's projections are also preferential to playing under 9.5 rebounds for Westbrook this evening. The line is nearly one full rebound more than his per-game average of 8.8 coming in. The 12 rebounds Westbrook snagged on Monday marked the first time he successfully cleared this prop line in the last six games. With Davis officially probable to play tonight, the Lakers will have a much stronger cast of big men to tangle for rebounds down low. Awesemo gives this prediction a solid expected ROI of 20%.
---
The Latest Sports Betting Content from Awesemo Odds
---
Westbrook enters the day tied for 22nd in the NBA in steals per game. The 1.5 he has averaged to date match tonight's NBA player props total across the betting market. Westbrook has cleared this number in each of the last two games. It might be worth a shot to bet on him to do so again against a Heat outfit that averages nearly 15 turnovers per game. He figures to be matched up primarily with Kyle Lowry. Although Lowry has plenty of experience, he has averaged 2.7 turnovers per game this season. OddsShopper can help bettors find enticing plus-money odds on Westbrook to notch another multi-steal game.
---
Thanks for reading to the end of this article! If you appreciate this free content and want to see more of it every day, you can help us out by sharing this article on social media!
Check out the
AwesemoOdds
home page for more sports betting content, including more picks and predictions.