How I'm Betting Bucks vs. Celtics Tonight: Expert Betting Picks & NBA Player Props 11/12/21
In the first of two ESPN-televised NBA games tonight, there is an Eastern Conference showdown between the Milwaukee Bucks and Boston Celtics. To put it lightly, the start to the season has not gone the way either team had planned. Much of this can be attributed to injuries, which have continued to shuffle lineups. Be sure to utilize the Awesemo tools for all the best NBA betting tips. Let's take a look at the best Bucks vs. Celtics NBA betting picks for tonight, using the Awesemo OddsShopper.
NBA Best Bets for Bucks vs. Celtics Tonight
Milwaukee Bucks vs. Boston Celtics
Date: Friday, Nov. 12, 2021
Time: 7:30 p.m. EST
Venue: TD Garden — Boston, Mass.
Coverage: ESPN
Bucks vs. Celtics NBA Betting Picks + Odds Shopping
Finding the most profitable NBA betting picks has never been easier. The newly updated OddsShopper tool is like the Amazon of sports betting. Simply filter, sort the page and find the NBA best bets within seconds, as seen below.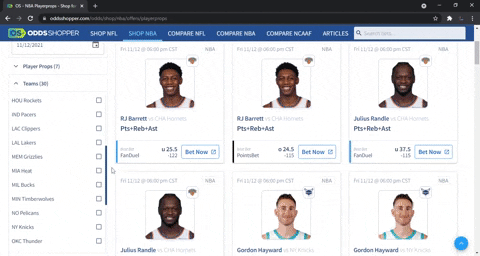 When sorting the prop bets by expected win percentage, this is the prop that comes to the very top. OddsShopper gives this prop a 77% to go under and a 30% ROI, projecting Al Horford for 8.6 rebounds. Horford may be the biggest surprise of this young season, as he has turned back the clock in his return to Boston. He is averaging 13.1 points, nine rebounds and 2.4 blocks this season. Horford should continue battling on the boards against a Bucks team that allows the seventh-most rebounds in the league, at 56.2. Without Brook Lopez, Milwaukee plays a little smaller, which works to the advantage of Horford tonight.
---
The Latest Sports Betting Content from Awesemo Odds
---
With Jaylen Brown still out for Boston, Dennis Schroder should stay in the starting lineup and continue to facilitate the offense for the Celtics. With Brown off the floor this season, Schroder leads the team in assists per minute, at 0.16. Playing 39 and 34 minutes these past two games without Brown, it is clear Schroder has a high upside for assists in tonight's game. OddsShopper gives this prop a 71% to go over and a 32% ROI, projecting him for 5.8 assists.
With Lopez out for the Bucks, they have struggled to defend the paint against true centers, which Robert Williams is. He also continues to be involved on the offensive end of the floor, totaling double-digit points in five of his past seven games. Williams has back-to-back 16-point games, playing 33 minutes in each of those games as well. It should be another solid day for him. OddsShopper gives this prop a 60% to go over and a 15% ROI, projecting him for 10.5 points.
---
Thanks for reading to the end of this article! If you appreciate this free content and want to see more of it every day, you can help us out by sharing this article on social media!
Check out the
AwesemoOdds
home page for more sports betting content, including more picks and predictions.