3 Quick and Profitable Money Making Bets for Cowboys vs. Vikings Week 8 NFL Sunday Night Football
To close Week 8 NFL Sunday, the Dallas Cowboys are taking on the Minnesota Vikings on Sunday Night Football. With a massive question mark at quarterback for Dallas, it makes it an interesting spot for NFL best bets and player props. Let's take a look at the best Cowboys vs. Vikings NFL betting picks for the Week 8 Sunday Night Football game, using the Awesemo OddsShopper.
Week 8 NFL Best Bets for Sunday Night Football
Dallas Cowboys vs. Minnesota Vikings
Date: Sunday, October 31, 2021
Time: 8:20 p.m. EST
Venue: U.S. Bank Stadium — Minneapolis, Minn.
Coverage: NBC

Cowboys vs. Vikings NFL Betting Picks + Odds Shopping
Finding the most profitable NFL betting picks has never been easier. The newly updated OddsShopper tool is like the Amazon of sports betting. Simply filter, sort the page and find the NFL best bets within seconds, as seen below!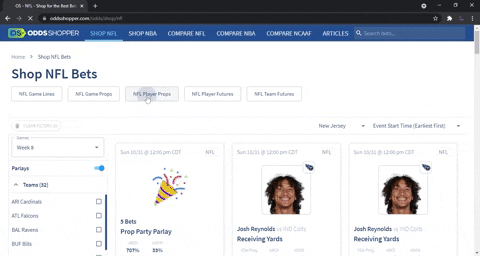 Kirk Cousins Over 2.5 Yards Rushing (-125, BetMGM)
Sorting the player props for this game by expected win percentage brings this prop to the very top. While Kirk Cousins is not considered a mobile quarterback, the prop line of 2.5 yards is tough not to bet over. He has run for over this prop in back-to-back games, with a 16 yards the last time out. The Cowboys have a strong pass rush, so expect them to flush Cousins out of the pocket a couple of times tonight. If there is any grass in front of him, look for Cousins to pick up a couple of yards instead of throwing it away. The OddsShopper Tool gives this prop an 75% chance to hit the over and an expected ROI of 34%. The Player Props Tool projects Cousins for 8.09 yards rushing.
Kirk Cousins Under 2.5 Touchdowns Passing (-220, PointsBet Sportsbook)
This game was initially projected to be a shootout, with two talented offenses and suspect secondaries. However, with Dak Prescott reportedly not expected to play in this game, the Vikings may not need to be as aggressive. On top of that, with Dalvin Cook getting a week of rest, the Vikings should feel very comfortable giving him the ball in the red zone, lowering Cousins' touchdown upside tonight. The Player Props Tool projects Cousins for 1.97 touchdowns.
Ezekiel Elliott Under 75.5 Yards Rushing (-115, BetMGM)
If Prescott does not play tonight, the Vikings will commit extra attention to slowing down Ezekiel Elliott. This forces Cooper Rush to throw, which would be the wide defensive philosophy for Minnesota tonight. Elliott has struggled without Prescott in the past, and the OddsShopper Tool gives this prop a 63% chance to hit the under and an expected ROI of 18%. The Player Props Tool projects Elliott for 68.88 yards rushing.
---
Thanks for reading to the end of this article! If you appreciate this free content and want to see more of it every day, you can help us out by sharing this article on social media!
Check out the
AwesemoOdds
home page for more sports betting content, including more picks and predictions.