3 Quick and Profitable Money Making Bets for Packers vs. Cardinals Week 8 NFL Thursday Night Football
Another exciting week of NFL football kicks off tonight, with the Green Bay Packers facing off against the Arizona Cardinals. The game result looks to be a toss-up for NFL betting, so the better option could be to look at the other betting options tonight. Let's take a look at the best Packers vs. Cardinals NFL betting picks for the Week 8 Thursday Night Football game using the Awesemo OddsShopper.
NFL Best Bets for Week 8 Thursday Night Football
Green Bay Packers vs. Arizona Cardinals
Date: Thursday, October 28, 2021
Time: 8:20 p.m. EST
Venue: State Farm Stadium — Glendale, Ariz.
Coverage: FOX/NFL Network
Packers vs. Cardinals NFL Betting Picks + Odds Shopping
Finding the most profitable NFL betting picks has never been easier. The newly updated OddsShopper tool is like the Amazon of sports betting. Simply filter, sort the page and find the NFL best bets within seconds, as seen below!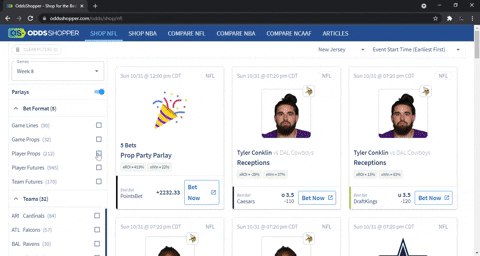 Marcedes Lewis Under 2.5 Receptions (-200, Caesars)
As shown by the GIF, sorting the player props for this game by the expected win percentage brings this prop to the very top. This tool gives the over on this Marcedes Lewis reception prop a 90% chance to hit and an expected ROI of 34%.
Lewis is one of the best blocking tight ends in the NFL. However, he is rarely used in the receiving game, and the absence of a couple wide receivers is not going to change that. He is either moving bodies or getting a breather so he can do it again. Yes, Lewis totaled three receptions last week, but the previous time Lewis did that in a regular season game was back in 2017.
Aaron Rodgers Under 263.5 Yards Passing (-115, Caesars)
The Cardinals have a weak run defense that is made worse by the absence of J.J. Watt. With the Packers missing wide receivers, look for them to run the ball as much as they can, utilizing all three of their running backs. While Aaron Rodgers may still have a good game, it is a lot to ask him to pass for over 263.5 given the matchup and the most likely route to success for the Packers tonight. Rodgers has gone over this total just twice all season long. Awesemo's Player Props Tool projects Rodgers to pass for 249.95 yards, giving the under a 63% chance to hit and a 17% ROI.
Kyler Murray Under 2.5 Touchdowns Passing (-179, Caesars)
The Packers are going to run the ball as much as they can. A big reason for this is it attacks a weakness for the Cardinals. However, this also is a good strategic move because it keeps Kyler Murray off the field and limits his opportunities to score. On top of that, DeAndre Hopkins did not practice this week and is less than 100% healthy. The Cardinals have had a lot of success running for touchdowns with James Conner, as he has scored six in the past five weeks. There are many reasons why the under is the most likely scenario for Murray tonight. The OddsShopper Tool gives this under a 67% chance to hit and a 5% ROI.
---
Thanks for reading to the end of this article! If you appreciate this free content and want to see more of it every day, you can help us out by sharing this article on social media!
Check out the
AwesemoOdds
home page for more sports betting content, including more picks and predictions.