TMZ Sports – Michael Jordan says Tiger Woods is one of the most important figures in golf history — crediting him with evolving it from a "white man's sport" into a game for everybody.
It's all part of newly released footage of a sit-down interview with Cigar Aficionado from 2017 … when MJ was asked who's the G.O.A.T — Tiger or Jack Nicklaus?
"Obviously Jack won more during the time he played," MJ said … "Tiger evolved it to where it crossed a lot of different boundaries — where it's not just a white guy's sport."
MJ says Woods paved the way for other minority golfers to get a shot on the big stage … which led to a bigger audience and more interest in the game. In other words, Tiger made golf cool.
"Now, does that constitute him being the greatest? Does that mean he's any less than Jack — I think [the sentiment] is unfair."
It's a bit of an odd move for Cigar Aficionado to have held onto this clip of Michael Jordan for three years, but I suppose it's as relevant now as it's ever been. And obviously any praise from Michael Jordan is huge. We saw how reluctant His Airness can be to give people props during The Last Dance documentary. And to say that Tiger Woods materially changed golf, clearly one of MJ's favorite pastimes, that has to mean a lot for Tiger.
---
NBA is back and you can get your first month of Awesemo+ NBA for 50% off when you use promo code SIDEACTIONNBA at checkout. That's only $25 for 31 days of Awesemo's leading NBA DFS projections, ownership projections, Boom/Bust tool, & more! You better hurry because this offer is only valid thru Saturday, August 1!
---
But also I kind of love that MJ is just a Tiger Woods fanboy like everyone else out there. Sure he has his detractors. But so many people in this generation of golf fans grew up with Tiger's iconic moments representing all of their memories of golf fandom. When the Sunday reds are on, the world knows it's business time. Even M.J. isn't immune to that lure.
There were certainly some awkward racial moments for Tiger Woods over the years too, and it's important to remember that. Even if most golf fans these days remember Tiger for the color red, it's easy to forget that he was boiled down to his own color wayyyy too often early in his career. And he never blinked at it, just kept pushing and carving his own path to being the most memorable golfer of this generation. His off-field dailiances may have ultimately kept him from Jack Nicklaus's apex but you can't remotely deny how important Tiger's career has been in a variety of ways.
So let's hope we see some more good Tiger in the coming weeks, months, and years. Even if Michael Jordan gave these quotes years ago, I wouldn't want to let the man down.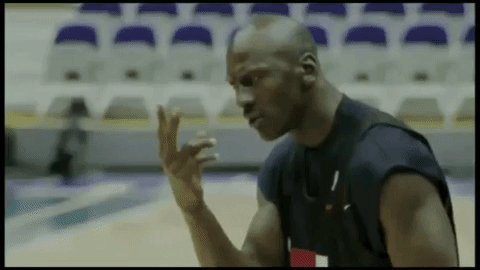 ---
Welcome to the game outside the game! Follow us on our new Sideaction Twitter handle for the latest on sports & pop culture news across the web!