The NFL deadline for contract extensions has passed and while some big names like Derrick Henry got a new deal, Dak Prescott is left with his franchise tag worth $31.4 million this year. While it wasn't expected that the two sides would reach a deal before the deadline, Dak's brother Tad Prescott may know more than the public. And Tad does not seem happy with the Cowboys' handling of the situation:
We've seen across numerous sports before that you can't necessarily trust a star player to be perfectly aligned with his brother's social media posts. But if Tad Prescott does represent the views of Dak Prescott and the rest of his management team, it could be an ugly ending to Dak's run as the Cowboys' starting QB.
It's a dangerous game the Cowboys are playing if they alienate Dak much like Washington did with Kirk Cousins in their franchise tag standoff. Either way, Andy Dalton's likely looking a lot like this GIF right now as Dak's backup and the Cowboys' theoretical leverage against his contract desires: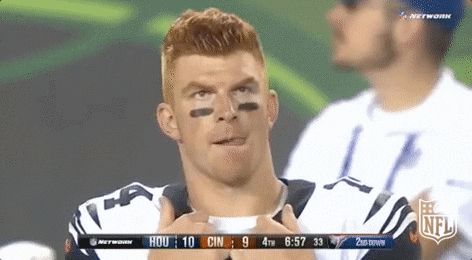 P.S. Tad and Dak Prescott? You've got to admire the Prescott family's desire to keep time spent writing out names to a minimum. Though Tad and Dak Prescott do sound like the kind of names that'd belong to the bad guys in a Wedding Crashers reboot.
---
Welcome to the game outside the game! Follow us on our new Sideaction Twitter handle for the latest on sports & pop culture news across the web!