3 QUICK & EASY Betting Picks Kevin Durant NBA Player Props Tonight | Knicks vs. Nets 11/30/21
The first matchup featured on tonight's nationally televised NBA doubleheader pits in-city rivals against one another. Early-season supremacy in New York will be on the line as the Knicks take on the Nets. Despite both sides having numerous obstacles to navigate past in the early portion of this season, both are currently among the top eight teams in the Eastern Conference standings. Tonight's Knicks – Nets matchup is bound to be entertaining, and the revamped Awesemo OddsShopper Tool is the perfect resource to help find the best NBA player props and betting picks for the game. Tonight Awesemo has multiple must-bet projections for Nets superstar Kevin Durant.
With help from OddsShopper, the following column aims to find optimal odds and discusses some positive ROI prop bets for Durant in tonight's matchup.
NBA Player Props & Betting Picks | Kevin Durant
With OddsShopper, finding the best NBA betting player props is fast and simple. All users have to do is filter the prop selections, sort the page, and find the best pick to bet. The process is extremely quick and highly effective. See below for an example of how to use the tool for one of tonight's featured NBA player props.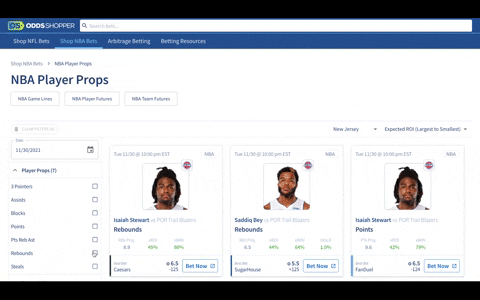 Over 7.5 Rebounds (+100, FanDuel)
The biggest edge that OddsShopper have on the various Durant props tonight is to play over 7.5 total rebounds. Durant enters Tuesday averaging 7.6 rebounds per game, a number that falls right in line with the NBA betting total. Interestingly enough, Durant's nine-rebound effort in the Nets' last game marks the only time in his last five that he exceeded the betting total of 7.5. However, Durant should see plenty of minutes and leave it all on the floor. One of the big reasons why OddsShopper is so high on playing Durant's rebound prop over is the associated odds. Bettors can lock in this pick at a +100 price. With the even-money odds offering a greater potential return on investment, OddsShopper gives the over a favorable expected ROI of 17%.
Over 5.5 Assists (+115, DraftKings)
In the three games since Durant was sidelined on Nov. 19, he has had a major impact as a distributor. He has dwarfed his per-game assists average of 5.4 with totals of nine, eight and seven in the last three games. The NBA betting player props total expects some regression to the mean for Durant tonight, listing his assists over/under at 5.5. While OddsShopper does not show tremendous value on this prop at the current number, the prices throughout the market could impact this before tip-off. OddsShopper is showing +115 odds on Durant to exceed 5.5 assists as the best price available. Make sure to check back in on this line before the game. If the market hammers the under, the odds could become more favorable and lead to a positive ROI opportunity.
Check out Zach Brunner's expert NBA betting picks for tonight's Knicks vs. Nets game.
---
The Latest Sports Betting Content from Awesemo Odds
---
Over 0.5 Steals (-130, Caesars)
OddsShopper has Durant coming up with 0.7 steals in tonight's game, which matches his per-game average on the season. However, it also falls well short of Durant's recent defensive run; he has a whopping six steals over the last two games combined. The fact that the Knicks turn the ball over an average of 14 times per game suggests that there could be opportunities for steals again tonight. As New York adjusts its backcourt rotation, perhaps some miscommunication or sloppy ball handling could play a role in this prop bet prediction as well. While OddsShopper shows plus money on the under, siding with the NBA betting market and the juice on this steals prop seems like the best wager to make.
---
Thanks for reading to the end of this article! If you appreciate this free content and want to see more of it every day, you can help us out by sharing this article on social media!
Check out the
AwesemoOdds
home page for more sports betting content, including more picks and predictions.