3 MUST BET NBA Player Props for Tonight | Giannis Antetokounmpo & Richaun Holmes 11/2/21
A total of five games are on deck for Tuesday night in the NBA. It may be a lighter hoops slate, but the stars will be out. Joining the reigning NBA Champion Milwaukee Bucks in action tonight are two formidable Western Conference contenders in the Utah Jazz and Los Angeles Lakers. There are plenty of worthwhile NBA betting opportunities to be had, particularly when it comes to player props. Thanks to the Awesemo OddsShopper Tool, finding the best NBA player props and bets has never been easier. All it takes is three simple steps: filer, sort and bet!
With help from both OddsShopper and the projections found in Awesemo's NBA Betting Player Props Tool, let's explore three must-bet prop predictions for Tuesday night's slate.
Best NBA Betting Player Props & Betting Picks Tonight
With the newly renovated Awesemo OddsShopper Tool, finding the best NBA betting player props is fast and simple. All users have to do is filter the prop selections, sort the page and find the best pick to bet. The process is both quick and effective. See below for an example of how to use the tool for one of tonight's NBA player props.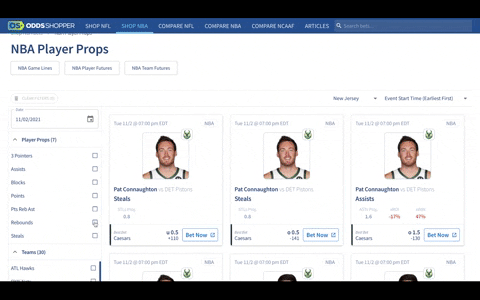 Giannis Antetokounmpo Under 12.5 Rebounds (+105, DraftKings)
Giannis Antetokounmpo enters Tuesday's game against the Pistons averaging a double-double. Along with 27.3 points per game, he has grabbed 11.1 rebounds through the first seven games. While that is an extremely impressive per-game average on the glass, tonight's NBA betting total is even higher. The line lists Antetokounmpo's over/under at a whopping 12.5 boards.
Despite the Pistons being one of the worst rebounding teams in the league through the first two weeks, Awesemo's prop projections heavily favor playing this prop to the under. Antetokounmpo had just seven rebounds in the Bucks' last outing against Utah. With the potential of a blowout tonight, perhaps Milwaukee will not play their star quite as many minutes. The projections give this under an expected ROI of 38%. OddsShopper not only reveals profitable +105 odds, but it also shows that other sportsbooks in the market list this prop at 11.5 rebounds. With this being the best line and odds, it is truly a winning wager for bettors to make.
Richaun Holmes Over 13.5 Points (+102, FanDuel)
One could make a case that Richaun Holmes is still being a bit undervalued by the NBA betting market. He has been on a tear to begin the new season. Holmes has made a substantial impact for the Kings both on the glass and on the scoreboard. He enters Tuesday night's showdown with the Jazz averaging a double-double with 16.3 points and 10.5 rebounds. He has scored in double figures in five of six games and has exceeded tonight's points total of 13.5 in four of them.
It should be noted that the only game in which Holmes was held below 10 points came against this same Jazz team. The looming presence of Rudy Gobert on the interior typically makes it tough for opposing bigs to make an impact offensively. However, Holmes also only played 18 minutes in that contest, well below his current per-game average of 27.7. Awesemo's prop projections expect a regression to the norm in playing time and production for Holmes in this second go-around against Utah. Thanks to OddsShopper, bettors are able to lock in the over on 13.5 points at profitable +102 odds. The projections give this wager a high expected ROI of 25%.
Kevin Porter Jr. Over 4.5 Assists (-130, Caesars)
Playing time is no longer a concern for Kevin Porter Jr. like it was back in Cleveland. Through six games this season Porter is averaging exactly five assists per game. While he has only exceeded tonight's NBA betting line of 4.5 total assists twice thus far, he played well against the Lakers on Sunday night and came up just shy with four assists. Tonight's rematch at STAPLES Center could see the Lakers without LeBron James, who is questionable. Despite this bet being juiced to the over, Awesemo's prop projections assign a massive expected ROI of 42% to go with an expected win rate of 80%.
---
Thanks for reading to the end of this article! If you appreciate this free content and want to see more of it every day, you can help us out by sharing this article on social media!
Check out the
AwesemoOdds
home page for more sports betting content, including more picks and predictions.