3 MUST BET NBA Player Props Tonight | Mo Bamba & Tim Hardaway Jr. 11/17/21
There is a massive 11-game lineup of NBA action to look forward to on this Wednesday evening. With so many teams in action, there are endless betting opportunities to pursue in the NBA player props market. Make sure to include the redesigned Awesemo OddsShopper Tool in the NBA handicapping process. Thanks to this tremendous tool, finding the best player props and bets is as simple as three quick steps: Filter, sort, bet.
With help from the OddsShopper Tool, let's explore three must-bet prop predictions for Wednesday night's NBA slate.
Best NBA Betting Player Props & Betting Picks Tonight
With the revamped OddsShopper, finding the best NBA betting player props is fast and simple. All users have to do is filter the prop selections, sort the page, and find the best pick to bet. The process is extremely quick and highly effective. See below for an example of how to use the tool for one of tonight's featured NBA player props.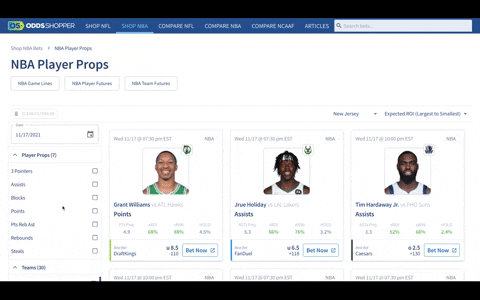 It has taken a few years, but Mo Bamba is finally getting his opportunity atop the Magic depth chart at the center position. He has provided relatively consistent production in that role this season. Bamba carries averages of 11.4 points and 9.4 rebounds per game into Wednesday night's matchup with the Knicks. As such, the NBA betting line of 8.5 rebounds is set nearly one full board lower than Bamba's per-game average. In seven games played during the month of November, Bamba has gone over this prop line four times and has finished with no fewer than seven rebounds.
OddsShopper checks in as a helpful resource for bettors on this NBA prop bet. The tool shows a disparity of 12 cents in price points between sportsbooks on this wager. A +102 bet at one book can be had on the same line that holds standard -110 odds at another outlet. The plus-money opportunity cinches this pick as a favorable one for Awesemo's NBA player props projections. The projections like Bamba to exceed 8.5 rebounds 60% of the time and give this bet an expected ROI of 20%.
---
The Latest Sports Betting Content from Awesemo Odds
---
Aside from a handful of dreadful shooting performances, Nickeil Alexander-Walker has had little trouble exceeding the NBA player props total of 13.5 points in previous games this season. It just so happens that one of those poor shooting displays came in the team's last game. Alexander-Walker scored just 4 points on 1-for-6 shooting from the field. However, the six shots attempted were by far the fewest he has put up in any outing this season. Bettors should expect a regression to the mean in that area tonight. OddsShopper pegs Alexander-Walker to finish with exactly 14.78 points this evening. While the matchup against the Heat defense looks daunting initially, it should be noted that Miami has not been great defending opposing shooting guards this season.
The second of two nationally televised games this evening pits the Mavericks against the Suns. Mavericks shooting guard Tim Hardaway Jr. remains one of the streakiest scorers in the NBA, and Dallas' last game saw him hit on over 57% of his shot attempts to score 19 points. That effort came just one game after a 2-for-11 shooting effort resulted in a measly 5 points. Buckets figure to be a bit more difficult to come by tonight against the stiff Suns defense.
Awesemo's NBA player props projections are very confident that Hardaway will finish under a betting line that sits 3 full points higher than his per-game scoring average on the season to date. OddsShopper can assist bettors in finding the best of a prop that has up to an 11-cent discrepancy between sportsbooks. Awesemo has assigned an expected ROI of 28% to this wager.
---
Thanks for reading to the end of this article! If you appreciate this free content and want to see more of it every day, you can help us out by sharing this article on social media!
Check out the
AwesemoOdds
home page for more sports betting content, including more picks and predictions.