3 MUST BET NBA Player Props Tonight | Trae Young & Saddiq Bey 11/4/21
There are five enticing matchups on Thursday's NBA basketball slate. Although betting odds for a majority of the game lines are lopsided, there are still plenty of opportunities to find profitable betting opportunities via NBA player props. The revamped Awesemo OddsShopper Tool is a bettor's new best friend when it comes to an effective and streamlined NBA prop betting endeavor. Thanks to this tremendous tool, finding the best player props and bets has never been easier. All it takes is three quick steps: filer, sort and bet.
With help from both OddsShopper and the projections found in Awesemo's NBA Betting Player Props Tool, let's explore three must-bet prop predictions for Thursday night's slate.
Best NBA Betting Player Props & Betting Picks Tonight
With the newly renovated Awesemo OddsShopper Tool, finding the best NBA betting player props is fast and simple. All users have to do is filter the prop selections, sort the page and find the best pick to bet. The process is both efficient and effective. See below for an example of how to use the tool for one of tonight's NBA player props.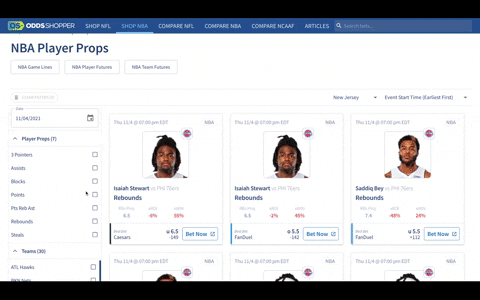 Trae Young Over 7.5 Assists (-145) at Caesars Sportsbook
While he has only scored north of 25 points once in the last four games, Trae Young has been dishing out assists at a furious rate. His 10 assists in Wednesday night's game marked the third time in the last four in which he recorded double-digit assists. Young is now averaging 9.5 per game entering Thursday's cross-conference showdown against the Jazz.
While Utah is known for being a stingy defensive team, Young figures to feed open teammates even if he struggles to find his own shot tonight. Awesemo's props projections project Young to hand out 9.63 assists tonight, over two more than the current NBA betting total. As a result, there is an 80% expected win probability associated with betting this prop over. Even with the odds juiced in that direction, Awesemo assigns an expected ROI of 36% to this wager.
Saddiq Bey Over 13.5 Points (-114) at FanDuel Sportsbook
After starting out the season strong offensively, Saddiq Bey has cooled off in the last two games. Despite still seeing his typical high-minutes role, Bey has failed to even crack double digits scoring in the last two. Most recently, he shot a miserable 2-for-13 from the field, including 0-for-4 from beyond the 3-point line, and finished with just 4 points in a blowout loss. Despite the poor shooting of late, Awesemo's props projections are keen on Bey to exceed betting expectations tonight.
Current projections tab Bey to score 15.59 points in tonight's matchup against the 76ers. That is over 2 points more than the prop total of 13.5. As a result, Awesemo has assigned an expected ROI of 24% to this wager. While the 76ers are one of the better defensive teams in the league when it comes to total points allowed, they are bottom 12 in opponent 3-point percentage. After hitting on just one of his eight 3's over the last two games, Philadelphia might serve as a good bounce-back opponent this evening.
---
The Latest Sports Betting Content from Awesemo Odds
---
Christian Wood Over 10.5 Rebounds (+105) at Caesars Sportsbook
Thanks to OddsShopper, bettors identify value bets by playing Christian Wood to go over 10.5 rebounds tonight. Awesemo's projections tab Wood to finish with over 12 rebounds tonight. Thus this plus-money betting opportunity has an expected ROI of 36%. The projections are much more closely aligned with Wood's per-game rebounding average of 12.1 than the betting total. Shop the odds carefully, as there is up to a 10-cent discrepancy in the market at the time of writing. There is no reason to lay juice on a player prop when one can bet the same line at a plus-money return.
---
Thanks for reading to the end of this article! If you appreciate this free content and want to see more of it every day, you can help us out by sharing this article on social media!
Check out the
AwesemoOdds
home page for more sports betting content, including more picks and predictions.