3 QUICK & EASY Betting Picks Giannis Antetokounmpo NBA Player Props Tonight | Lakers vs. Bucks 11/17/21
Among the 11 total games on Wednesday's NBA slate is a nationally televised heavyweight battle between the Los Angeles Lakers and Milwaukee Bucks. When it comes to player props, there is nothing better than having action on the game's biggest stars while watching them live. The revamped Awesemo OddsShopper Tool is the perfect resource to help find the perfect NBA player props and betting picks for tonight's Lakers vs. Bucks matchup. Tonight Awesemo has multiple must-bet projections for reigning NBA Finals MVP, Giannis Antetokounmpo.
Using OddsShopper, the following column aims to find optimal odds and some positive ROI prop bets for Giannis Antetokounmpo in tonight's matchup.
NBA Betting Player Props & Picks | Giannis Antetokounmpo
With OddsShopper, finding the best NBA betting player props is fast and simple. All users have to do is filter the prop selections, sort the page, and find the best pick to bet. The process is extremely quick and highly effective. See below for an example of how to use the tool for one of tonight's featured NBA player props.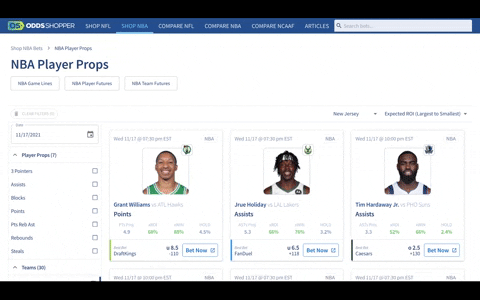 While a star player the caliber of Antetokounmpo can supply a massive amount of points any given night, OddsShopper favors him to fall short of 27.5 on the scoreboard tonight. On the season Giannis is averaging 1 point (26.5) fewer than tonight's NBA player props total. He has also fallen short of the betting line in each of the Bucks' last two games. While the opposing Lakers have not started out the season as strong defensively as they were a year ago, they are capable of playing high-quality defense. Under a national TV spotlight, expect the Lakers to do just that this evening. Awesemo projects Antetokounmpo to score exactly 24.83 points this evening. The expected ROI on this under prediction is a hefty 29%.
---
The Latest Sports Betting Content from Awesemo Odds
---
With the Lakers likely to try to limit the scoring impact of Antetokounmpo, OddsShopper finds value in plus-money odds for him to exceed 5.5 assists this evening. Setting up teammates has become an integral part of Antetokounmpo's game. He enters tonight's game averaging six assists per game, tied for 19th in the league. While he has fallen short of tonight's NBA player props scoring total in each of the last two games, Antetokounmpo has exceeded 5.5 assists in both. Even when he does not live up to betting market expectations as a scorer, Giannis has and should continue to impact games in numerous other ways. His passing only continues to improve, and bettors have an intriguing plus-money opportunity with this prop bet tonight.
Typically, laying over two dollars on any NBA player props betting picks is not worth the risk. However, it is somewhat surprising to see oddsmakers listing the line for total Antetokounmpo blocks in tonight's game at 0.5. After all, Giannis is averaging 1.7 per game this season and has recorded at least one block in all but three games thus far. Furthermore, Antetokounmpo has averaged a minimum of a block per game in every year of his NBA career, with the exception of his rookie season. Laying -222 odds on a single block in tonight's nationally televised matchup is a bet that would appear to be worth the risk.
---
Thanks for reading to the end of this article! If you appreciate this free content and want to see more of it every day, you can help us out by sharing this article on social media!
Check out the
AwesemoOdds
home page for more sports betting content, including more picks and predictions.